Where does America go when it's hungry?
We wondered too, so we put together this infographic showing the most popular regional restaurant chains in every state.
We dug through the available Facebook audience data of more than 300 regional restaurant chains from all areas of the country and analyzed their "Likes" by state to create a map showcasing which chains each state enjoys the most.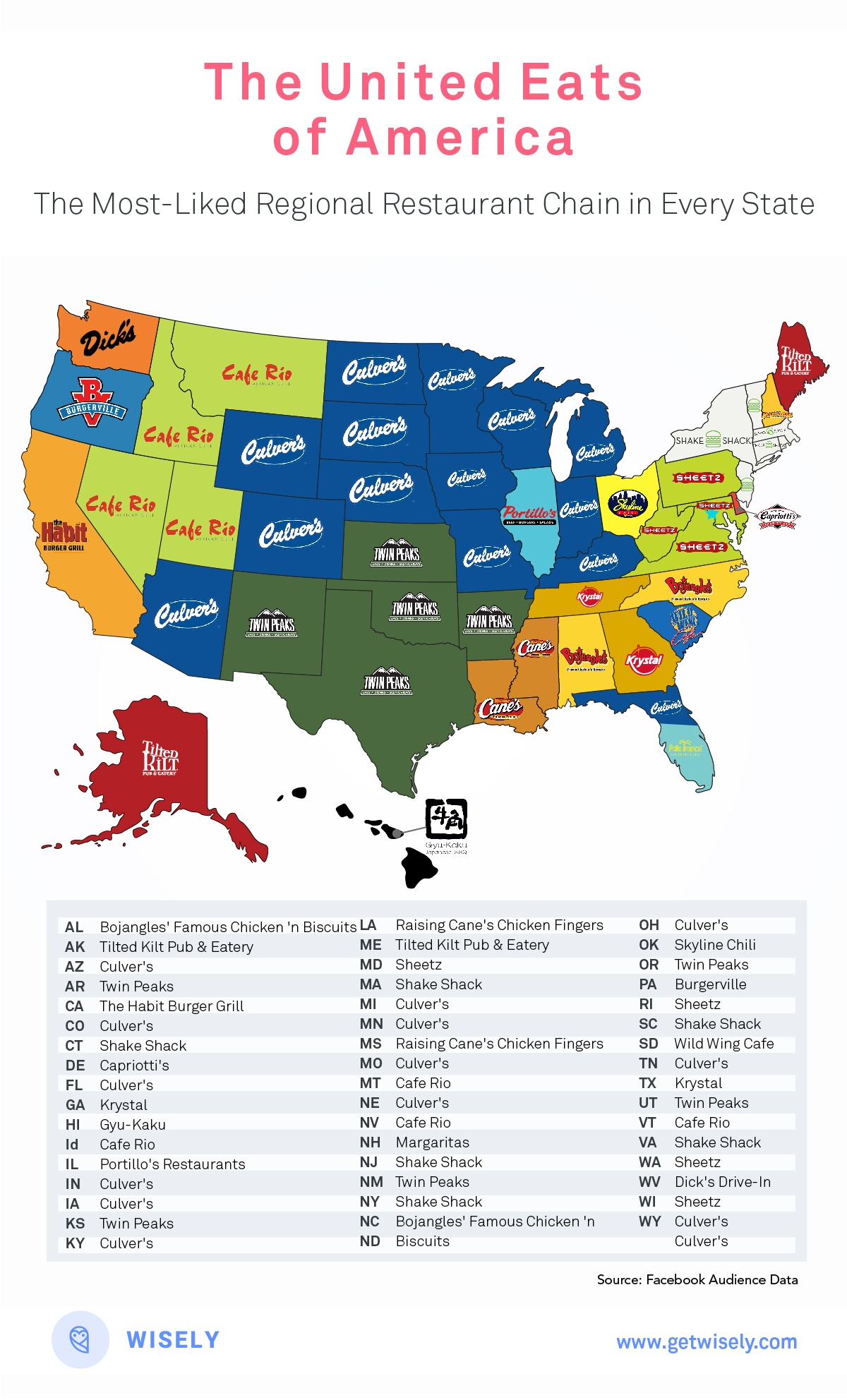 Here's what we discovered:
There are trends all over the country based on the state and region. For instance, the Midwest and Plains LOVE Culver's, the home of the frozen custard, Butterburgers, and cheese curds. It's no wonder why people love it, with several types of frozen custard and daily specials, who could resist? 14 states favored Culver's over the other chains we analyzed.
We found a similar trend around the Southwest, where the prevailing chain is Twin Peaks. Texas, Oklahoma, Kansas, and Arkansas all love Twin Peaks with their fried pickles, BBQ pulled pork nachos, and bread pudding--among other things.
A majority of the states in the Northeast enjoy Shake Shack as their favorite eatery. Shake Shackers love their meats with no added antibiotics or hormones and non-GMO buns. Not to mention thick, creamy, milkshakes with frozen custard of different flavors. Nothing goes together better than a burger and a shake, so who could disagree with their favorite pick?
Another trend we discovered was for Sheetz in the D.C. area. This includes Pennsylvania, Maryland, West Virginia, and Virginia. Sheetz is the new, popular gas station/convenience store with yummy food and online ordering. It simply can't get more convenient than that.
In the mountain plains, Cafe Rio pulled in 4 states for the most popular restaurant. They include Idaho, Utah, Nevada, and Montana. Here you'll get fresh Mexican grill food including tacos, enchiladas, salads, burritos, and more.
We did make one notable exclusion from our analysis, which you'll probably notice right away (especially if you're from the west coast). We removed In-N-Out Burger from the final tally.
Not that we aren't fans. But, even though they only have a regional presence, their Facebook audience is so huge that it would have dwarfed every other chain in the study. It just didn't seem fair. Congrats to them for their loyal and active popularity.
It's difficult to draw any specific conclusions from this data other than there is a huge variety of available restaurants across the country. Some regional chains have established a huge foothold in their home territory and different regions seem to be drawn to very different kinds of food and establishments.
Top 5 State Breakdown
In addition to the country-wide analysis, we also created a top 10 for 5 of the most populated states. There were some common themes, but again, we see the hometown pride shining through in almost every list.
Here were our findings:
California
The Habit Burger Grill

Del Taco

Shake Shack

Cafe Rio

Tilted Kilt Pub & Eatery

Blaze Pizza

Gyu-Kaku

Jollibee

Ono Hawaiian BBQ

Veggie Grill
Florida
Culver's (Tie)

Pollo Tropical (Tie)

Shake Shack

BURGERFI

Tommy Bahama

Tilted Kilt Pub & Eatery

Krystal (restaurant)

Portillo's Restaurants

Twin Peaks (restaurant chain)

Giordano's Pizzeria
Illinois
Portillo's Restaurants

Culver's

Tilted Kilt Pub & Eatery

Potbelly Sandwich Works

Giordano's Pizzeria

Shake Shack

Cooper's Hawk Winery & Restaurant

Gino's East

Blaze Pizza

Twin Peaks (restaurant chain)
New York
Shake Shack

Dinosaur BBQ

Tilted Kilt Pub & Eatery

16 Handles

Gyu-Kaku

Tommy Bahama

Jollibee

Bowlmor Lanes

Potbelly Sandwich Works

Sheetz
Texas
Twin Peaks (restaurant chain)

Taco Cabana

Raising Cane's Chicken Fingers

Fuzzy's Taco Shop

Culver's

Shake Shack

Tilted Kilt Pub & Eatery

MOOYAH Burgers, Fries & Shakes

Potbelly Sandwich Works

Torchy's Tacos